Department Of Curiosities
January 20, 2015, No Comments , Event, Miscellany
We are proud to announce the launch of Department of Curiosities, a workshop and showroom. We will be holding our first public event this Saturday January 24 at 3013 W. Armitage Ave, in Chicago's Logan Square neighborhood. Department of Curiosities is the home of Morúa (corsetry and gowns) and Jamie Hayes of Production Mode (leather clothing and accessories). We have been working out our space for a few months, and have been busy working on new designs, orders and decorating the studio and store front. Now we are ready to open the doors and call it official!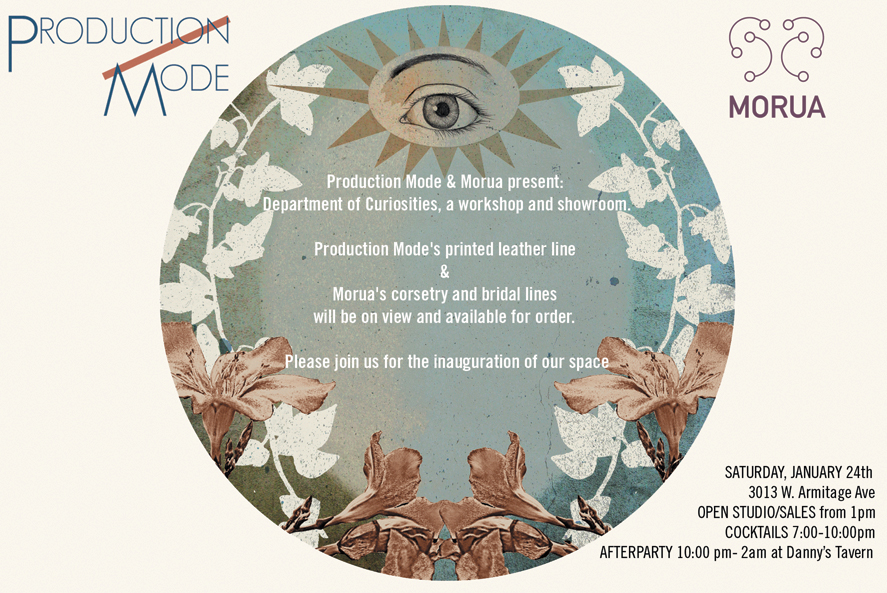 Based in Chicago, Department of Curiosities is committed to creative, ethical fashion and quality craftsmanship. In the storefront space, work tables, tools, and patterns are in plain view. The focus is not only on delivering high-​quality, designer statement pieces, made in house, but on making the design and sewing process transparent.
As a culture we've lost our connection to how clothing is made: cheap disposable fashion has made us forget that there is a human behind every stitch. Making garments is incredibly labor-​intensive. We invite our customers into that process.
Much of the work is made by the two of us, but to keep up with demand, we have recently hired our first employee, a stitcher, through Loom, a social enterprise of the Catholic Charities Refugee Resettlement program. We are committed to paying a living wage to all workers throughout their supply chain.
Jamie and I met a decade ago while at studying fashion at Columbia College Chicago. Ten years on, our paths have merged in the creation of Department of Curiosities.
Special thanks to Damon Locks for his beautiful logo design.